Dong Lam Cement aims at sustainable development
With the core values ​​of "Humanities, professionalism, sustainable development", Dong Lam Cement Joint Stock Company is gradually shaping its brand through creating its own mark.

Profession

In a recent story with General Director of Dong Lam Cement Joint Stock Company Phan Le Dung, we shared an interesting story on the occasion of the meeting between officials and employees (employees) and the company leadership. .

At that time, many employees wanted to support cement to build houses. However, Mr. Phan Le Dung asserted firmly: "The company has a lot of preferential policies for employees, we are no longer in the period of" producing something to eat ". If employees need to build houses, the company will introduce connections with the company's cement supply agents to help employees buy cement at a good price. The "what to do, eat that" will create a dependable thought, not to mention if priority for employees to buy cement at preferential prices, the bridge agents that bring revenue to the company will be like ".

This story helps us to shape a part of what Dong Lam Cement Joint Stock Company is aiming to be the professionalism in plant management and distribution system.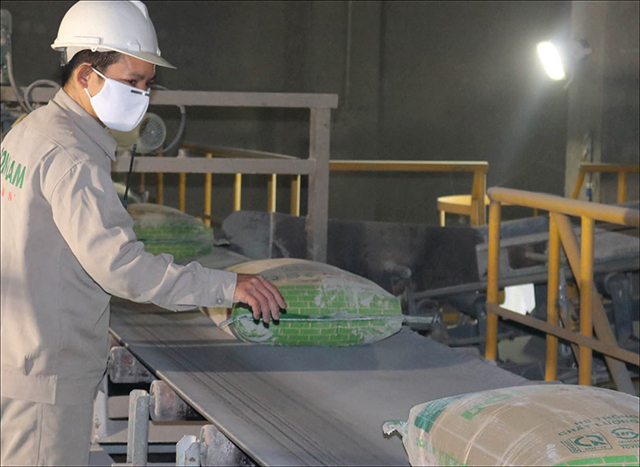 Workforce at Dong Lam Cement Plant is guaranteed rights.
According to Ms. Tran Thi Thu Hoa, Director of Human Resources Division of Dong Lam Cement Joint Stock Company, "Humanities, professionalism, sustainable development" are the three core values ​​that Dong Lam is pursuing and trying to improve. . In which, humanities are ranked first, through creating the best working environment for nearly 500 engineers and workers directly involved in production. The working environment is not inclined to directing and operating but under the open mechanism, everyone is able to express their personal values, creating favorable conditions for employees to promote their initiatives and come up with creative ideas. Innovative ideas are absorbed for developing annual research and development programs. As a result, each year dozens of technical innovations are implemented and applied effectively.

Human values ​​are also expressed quite standard through community-based, community-driven activities. In the 2017-2018 period alone, businesses voluntarily contributed nearly VND 8 billion to these activities. Recently, through the new rural program (NTM), Dong Lam Cement Joint Stock Company continued to sponsor more than 2,100 tons of cement for the NTM construction program to build more than 13.5 km of rural roads in the districts. , town; contributing to the successful implementation of the province's NTM construction goals. Particularly, in 2017, the company funded 1,400 tons of cement to build 12km of roads in districts and towns and 210 million VND to build houses of compassion for people in difficult circumstances in Phong Dien.

Balancing benefits

From human values, professionalism in management and operation, Dong Lam Cement Joint Stock Company aims to build and develop sustainably. "Sustainable development is creating an optimal balance between the use of resources and social responsibility, harmonizing business interests with employees and the community. Therefore, Dong Lam always focuses on innovation in production technology, committing to exploit and use non-renewable resources effectively and optimally as a responsibility to future generations. Using energy economically and at the same time utilizing industrial and civil wastes as fuel; create, maintain and develop an effective environmental management system; ensure highest occupational safety and health for workers ".

With a total investment of 200 million USD, Dong Lam Cement Plant is invested synchronously with key equipment and technology from well-known manufacturers according to European standards. This is the only factory in the Central region equipped with two fast analyzers using the source of gamma radioactivity and PGNAA neutron activating (instant neutron-gamma activation) for real-time data analysis results. The company's products are present in many provinces in the Central region and Central Highlands, taking part in constructing many big projects such as Deo Ca tunnel, expansion project of Danang airport, Vincom Hue building ...

With these core values, Dong Lam Cement Joint Stock Company is building a set of corporate culture regulations and common codes of conduct. Along with that, the company will build an individualized evaluation system to review and evaluate the capacity of each employee to have appropriate remuneration.